7 min read
Back to Boston: Takeaways from HubSpot Inbound Conference 2022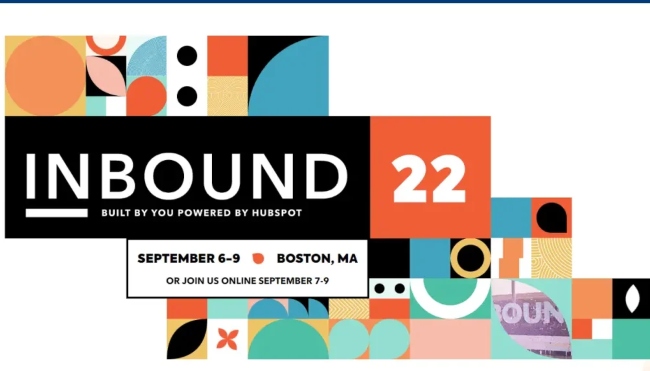 This year HubSpot's annual Inbound conference ran September 6-9 and marked its first year as a hybrid event. Many folks made the unforgettable journey to Boston to attend in person, and many more took advantage of the virtual event sessions. Some of our team of brilliant StoryTellers made the trek and others sat in on the virtual learnings.

The common thread was the topic of "connectedness," and that message resonated throughout the headlining speakers' remarks including those from President Barack Obama, Viola Davis, Jane Goodall, and a diverse representation of industry leaders. Not to mention dozens of breakout speakers, small groups, and workshops.

Here's an overview of our team's top takeaways from this year's conference:
Paul Groessel
Account Manager
My favorite session was the live broadcast of a Marketing Against the Grain Podcast, "Does PR Still Matter?" where HubSpot CMO Kipp Bodnar interviewed Katie Burke, HubSpot's Chief People Officer.
Yes, bonus for not needing an Inbound ticket to catch this session. But, a conference allows you to clear your schedule and change your environment to make new ideas easier to embrace. There is a lot of information flying around at a conference. Most of that information would not land with the same impact in my car during a commute at home as it did when surrounded by marketers in a new city.
That's why when Katie said strategy boils down to asking 'how are you going to win?' it really stuck with me. "It's tempting to create an 18-page marketing plan for everything," she said, "but boil it down to a one-pager on your winning angle." To me, that helps narrow the focus for any company or client.
Beyond that one idea, Kipp and Katie had a lot of measured insights during the broadcast, and I would recommend carving out your own unique time and space at home to listen in.
Hope Waytas
Associate Account Manager
I attended the conference virtually and had a plethora of sessions to pick from and attend. The session that stood out to me the most was titled, The Logic of Emotion: How to Make Inaction Impossible by Tamsen Webster, former TEDx Executive Producer and current Idea Strategist, author of Find Your Red Thread: Make Your Big Ideas Irresistible.
The premise of this session was to unpack how the human brain makes decisions. Using scientific research dotted with scholarly knowledge (ie. Aristotle), Tamsen led the listeners through a 30-minute presentation on how to make your marketing ideas undeniably awesome.
Finding your red thread, or the "why" underneath the message you are trying to send is key. Why should people care about your product or service? What about your product or service solves a problem for the customer? This concept isn't new, but how to implement it is where marketers run into problems.
That is why I purchased Tamsen's book, Find Your Red Thread: Make Your Big Ideas Irresistible, so I can continue to spruce up my marketing knowledge outside of Inbound, putting what I learned into practice and applying it to the clients we work with.
Matt Haugen
Content Manager
Lots of companies at Inbound were talking about automation. What stood out to me was a presenter who reminded everyone to check out Google's helpful content update from August 2022. Google is focusing more on "people-first content" because it delivers answers to what people are actually looking for—which AI-generated content rarely does. Google knows it's easy to create tons and tons of garbage on the Internet. They're using their machine learning to elevate content that is from genuine experts and offers real help when someone lands on a website.
The other big takeaway was from Neil Patel's presentation on matching your social strategy and content to the metrics each platform prefers—whether that's Instagram, YouTube, LinkedIn, whatever. It has us sharpening the posts we create for our clients.
Ashley Tyllia
Associate Account Manager
As Hope mentioned in her recap, Tamsen Webster's talk on The Logic of Emotion was one of the most memorable sessions I attended. However, there was another session that stood out to me as one of the most actionable, which was Email Marketing Tips: Do This, Not That led by Jay Schwedelson, founder of SubjectLine.com & CEO of Outcome Media. There were many sessions that I made it to that were informational, actionable, or memorable, but this one was all three.
Jay wanted to ensure we had the secret recipe for success regarding our email marketing strategies. He had some quick and easily implementable tips like adding an emoji to your subject line (but make sure it's first, before the text) and sending out your emails NOT on the hour. Both can help increase the open rate. Jay also had tips on what to put on destination pages to increase conversion rates (testimonials were top of the list), and that re-engagement doesn't start at 6 months. He made a point of saying that "if someone goes 30 days without opening your emails, 70% of those contacts will never open anything from you again."
I could go on and on with all the tips, but somehow, I still need more, so I signed up for his email list, where he sends out emails about emails. (Talk about meta!)
Kathy Heil
Partner
I questioned if I wanted to hear another Marcus Sheridan's "The Seller Free Economy" because I have heard him a number of times in past Inbound conferences. There's something that always draws me back in. Marcus captivates the audience at "hello" and there hasn't been a time where something he shares hits me in a vulnerable spot and he inspires me to think a bit differently about inbound marketing. This year was no exception. If ever businesses are wondering how important their website is to provide the visitor exactly what they want, Marcus reminded us of a few key marketing stats:
33% of all buyers say they'd prefer to have a "seller free" sales experience, according to Gartner (that number is significantly higher when referring to the millennial buyer)
75% more than three quarters of buyers and sellers say they now prefer digital self-serve and remote human engagement over face-to-face interactions—a sentiment that has steadily intensified even after lockdowns have ended, according to McKinsey & Company.
Marcus went on to say that if you want to become that voice of trust with your audience you must do the following:
You must be willing to talk about what others do not in your space
You must be willing to show what others do not in your space
You must be willing to sell in a way others won't sell in your space
So how do you do that? Focus on your visitor… make it easy for them to connect with you by offering self-scheduling functionality that lets them book a meeting directly on your calendar without needing to have a conversation first. Give visitors the ability to make important decisions by you "guiding" them virtually to a conclusion. Finally, be transparent with your pricing. Give visitors the ability to, at a minimum, view a range of prices for your product or services. Don't overlook your sales team in the process; train them, so they understand what it truly means to be a "trusted advisor."
Amanda Weldon
Account Manager
I had the pleasure of attending INBOUND and visiting Boston for the first time simultaneously! With attendees from all over the world there in the spirit of bolstering their knowledge, in addition to being in the same room as former President Barack Obama and Dr. Jane Goodall, it was incredibly inspiring, to say the least.
Beyond the energizing atmosphere, there was no shortage of sessions to attend - from SEO to sales and everything in between. While there were valuable takeaways from each session, the one that stands out most for me was, "Mindful Communication for Remote Work Success" by the presenter Upasna Gautam.
She talked about the challenges we have all come to know too well over the last couple of years with remote work—including communication, delivering impactful news, missing body language cues, meeting burnout, and more. When it comes to communication, everyone has a different communication style and preference but handling all of these mindfully, with clarity and empathy, is a good path to follow.
The reminder I needed, and many of us likely need, is that an 8-hour remote day is not the same as an 8-hour in-office day. For example, working in a virtual environment, you are likely moving much less, don't have the drop-in desk chats, don't have the regular office chit chat, aren't driving from meeting to meeting, running to the breakroom for coffee, and inevitably end up in a conversation however brief it may be, etc. Working 8 hours remotely or more each day can lead to burnout and fatigue, and it's vital to set boundaries (and stick to them) to avoid this. She ended the session with a 5-minute mindfulness meditation that left me calm and ready to tackle the rest of the day with intention.
Conclusion
Once again, we send out a heartfelt thanks to our friends over at HubSpot. It takes a ton of work to create such an inspiring, informative, and energizing event. We're already counting down the days to Inbound 2023!