12 min read
17+ Must-Have HubSpot Integrations for Your Sales and Marketing Needs
As a millennial marketer, I love data in every shape and size. Gathering information on my target audience and specific sales leads allows me to customize messages delivered via email campaigns and web content. And HubSpot is very helpful in that endeavor.
However, one tool can't do everything, and connecting your different pieces of software together can help you maximize your marketing campaigns. HubSpot offers integrations for so many different applications across all aspects of marketing and sales. These integrations help connect data inputs and outputs, measure ROI, and reduce the number of software platforms you have to interact with on a daily basis.
Here's an alphabetical list of the key areas of sales and marketing to seek out available integrations and connect your applications with HubSpot.
Advertising
If you're utilizing paid advertisements, wouldn't it be nice to be able to close the loop on those spendy investments? If you integrate your advertising solution with HubSpot, you'll be able to see how certain contacts interact with specific ads, how those ads impact their distinct buying journey, and who becomes a customer.
Featured Integrations: Facebook Ads, Google Ads, AdRoll, Perfect Audience, Needls
Analytics and Reporting
From heat maps to session recordings, and the consolidation of everything between, integrating your analytics and reporting tools with HubSpot will allow you to exchange insights and make your data smarter.
Featured Integrations: Databox, Klipfolio, DataHero, Hotjar, Lucky Orange, WordPress
Artificial Intelligence and Chat Bots
Are you using AI as part of your marketing strategy? If not, it's super cool and definitely worth checking out! And by integrating it with your software, you don't have to worry about logging into multiple dashboards to measure the effectiveness of your AI campaigns.
Featured Integration: Atomic AI, Drift, Many Chat, ChatFuel
Client Relationship Management (CRM)
Although part of HubSpot's platform is dedicated to sales tools, your business may require a separate CRM solution like Salesforce. If you're in this category, it's crucial to connect your software to your CRM system to equip your sales team with advantageous insights on their prospects and implement closed-loop reporting.
Featured Integrations: Salesforce, Scribe
Connector/Integrator
Although HubSpot offers many standard integrations, you're bound to run into a situation where an application you'd like to use doesn't connect directly. This is where a connector/integrator can come in handy, allowing you to seamlessly send data from one application to another.
Therefore, if a program you use doesn't have an existing integration, that doesn't mean you can't sync the two systems. There are solutions designed for just that.
Featured Integrations: Zapier, Automate.io, PieSync, LeadsBridge
Content Management
Forget the old way of copying and pasting everything from one application to another. Integrations, involving the platforms listed below, allow you to transfer and format blog content, email content and other files to HubSpot with the click of a button.
Featured Integrations: Zerys, Beacon, BlogMutt, BrandpointHUB, Uberflip, ClearVoice
eCommerce
If you provide an online shopping experience, eCommerce integrations are a "must have." Integrations between HubSpot and eCommerce solutions give you the ability to see how specific sales and marketing efforts impact online purchases on a customer-level.
And, as a bonus, it'll introduce your marketing team to the world of "abandon cart" email workflows!
Featured Integrations: Shopify, Magento, MagneticOne Mobile, Revenue Conduit, WooCommerce
Email Optimization
There are tools that can further enhance and optimize your email marketing efforts such as Seventh Sense, a tool that analyzes email engagement patterns for specific users and delivers your email content at the best possible time. Integrating tools like this will undoubtedly enhance your email marketing efforts.
Featured Integrations: Seventh Sense, Sigstr, Kickbox
Image Source
Events and Webinars
Ever host events? Both online or offline? Integrations with event/conference solutions like the ones below allow you to tie registration, attendance, and sometimes even engagement information to specific contact records in HubSpot. This insight is exceptionally helpful when distributing post-event emails or launching future campaigns.
Featured Integrations: Eventbrite, GoToWebinar, UberConference, ReadyTalk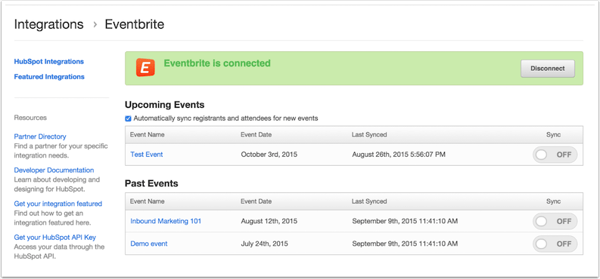 Image Source
Lead Generation
If you're utilizing outside tools to enhance lead generation and conversion efforts, an integration is an absolute no-brainer. HubSpot can give you a complete picture of a specific contact's journey through your marketing and sales processes and without an integration, you could be missing valuable information.
Featured Integrations: Unbounce, LeadPages, BrightInfo, Privy
Live Chat
If you add a live chat app to your site, you can automatically record your conversations with others directly in the contact record. And, it's a piece of cake to set up if you're using any of the chat applications listed below.
Also, remember that HubSpot has a proprietary live chat solution called "Messages." It's available with the Sales Starter and Pro packages.
Featured Integrations: SnapEngage, Drift, PureChat, LiveChat, Facebook Messenger
Phone Tracking and Recording
Through an integration like Invoca, you can track inbound phone calls as if they're online form submissions. This is a huge benefit because often times inbound phone calls aren't attributed to inbound marketing efforts. With other solutions and respective integrations, you can also make, receive, and track phone calls and text messages within the program.
Featured Integrations: Aircall, App Data Room, Invoca, JustCall
Image Source
Project Management
For companies that utilize project management solutions like Teamwork, Toggl, or Workflow Max, there are some existing integrations to sync this data with HubSpot. This can streamline some of your task management processes and overcome calendar visibility issues.
Featured Integrations: Teamwork Projects, Workflow Max
Image Source
Sales Enablement
Once you get that signature you've been stressing over for the past six months, celebrate in style with some champagne and maybe some gourmet cheeses, or whatever you're into. Let the integration handle the data transfer between HubSpot and your proposal/signature system. It can save you time by auto-populating company and contact information and help you keep your hot deals on the radar by tracking clicks and opens of your sent proposals.
Featured Integrations: Proposify, PandaDoc, HelloSign, GetAccept
Image Source
Social Media
Wait, Kevin, social media publishing, monitoring, and reporting tools are already a part of HubSpot, right? Absolutely, they are! However, if you use anything like Quuu, a tool that provides you with content suggestions for your social audience, you may be interested in integrating that information into your existing program.
Featured Integrations: Quuu, inboud.li
Image Source
Survey
If you set up a survey to a specific list of recipients, it may be helpful to know how specific contacts answer your questions. Assuming the survey isn't anonymous, an integration with SurveyMonkey will tie responses to surveys directly in the record of that particular contact.
Video
By integrating your video player, you give your team the ability to analyze if a specific contact has viewed a distinct video, how long they watched it, if they were engaged (with the video in the foreground vs background during play), what they did before watching the video, what they did after, and so much more.
Featured Integrations: Wistia, Vidyard, Brightcove, SproutVideo, PowToon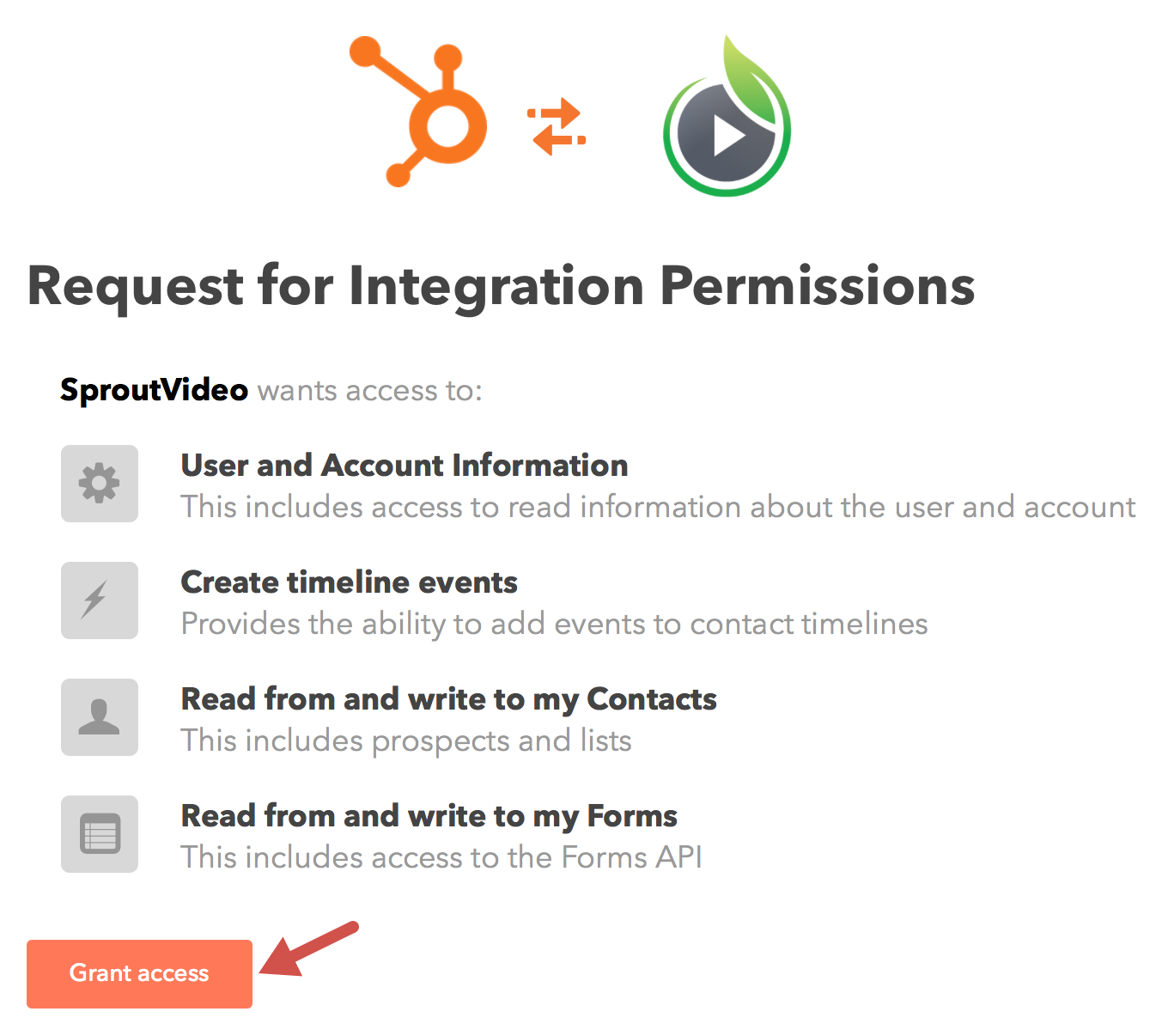 Conclusion
Integrations can help take an already awesome tool and continue to expand its capabilities. No matter how deep your knowledge and use of HubSpot, there are always ways to get more out of it by utilizing other tools available on the market. To view the entire landscape of options, visit the HubSpot Integrations page. I hope this helps you navigate the wondrous world of HubSpot integrations.
To access the full list of HubSpot integrations, click here.
Do you have another favorite HubSpot integration? Let us know in the comments!