A Video Production Agency Serving Businesses and Organizations Across America
StoryTeller is your one-stop shop for quality corporate and non-profit video production services—anywhere in the United States.
Emmy Award-Winning Videos that Drive Results
You'll work alongside one of our experienced, trusted video producers, who will coordinate and manage all aspects of your production. We handle logistics, project timelines, and communications with all the invested parties.

A video producer can help with creative direction, setting a budget, writing scripts, and anything else in between. Not only are our video production services efficient, they are also Emmy® Award-winning. Check out our examples below.
A Consistent Video Production Process That Comes to You
Since launching our agency in 2005, it's been our privilege to work with businesses and causes nationally and internationally, a trend that's been growing in recent years. In this new world of work, we're all trying to figure out creative ways to meet and unite our teams, even when we can't be physically together, and travel costs can quickly add up and overwhelm a marketing budget.
Having a background in TV news has granted us established relationships with video teams around the country. We like to use a 'hub and spoke' model when it comes to our national and international video projects. When production day comes, your producer will travel to you, but we work with our network of professional videographers around the country to keep your costs low. In other words, we've got a video team in every port.
Video Marketing and Production Agency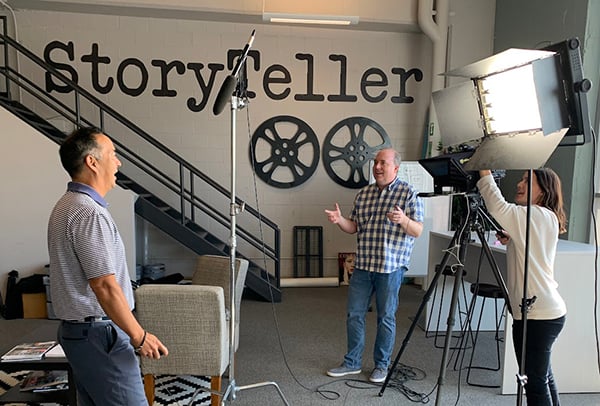 A final video is only as good as what you plan to do with it. That's why we keep our marketing hats on throughout the planning, the scripting, the filming, and editing of your video.
As an agency founded on journalistic roots and experience, we approach every video through the mindset of a news crew. That way you get a video with compelling storytelling that people will trust. We believe quality, not gimmicks, is what resonates with audiences.