37 min read
INBOUND 2017 Recap: Our Top Takeaways from HubSpot's Annual Conference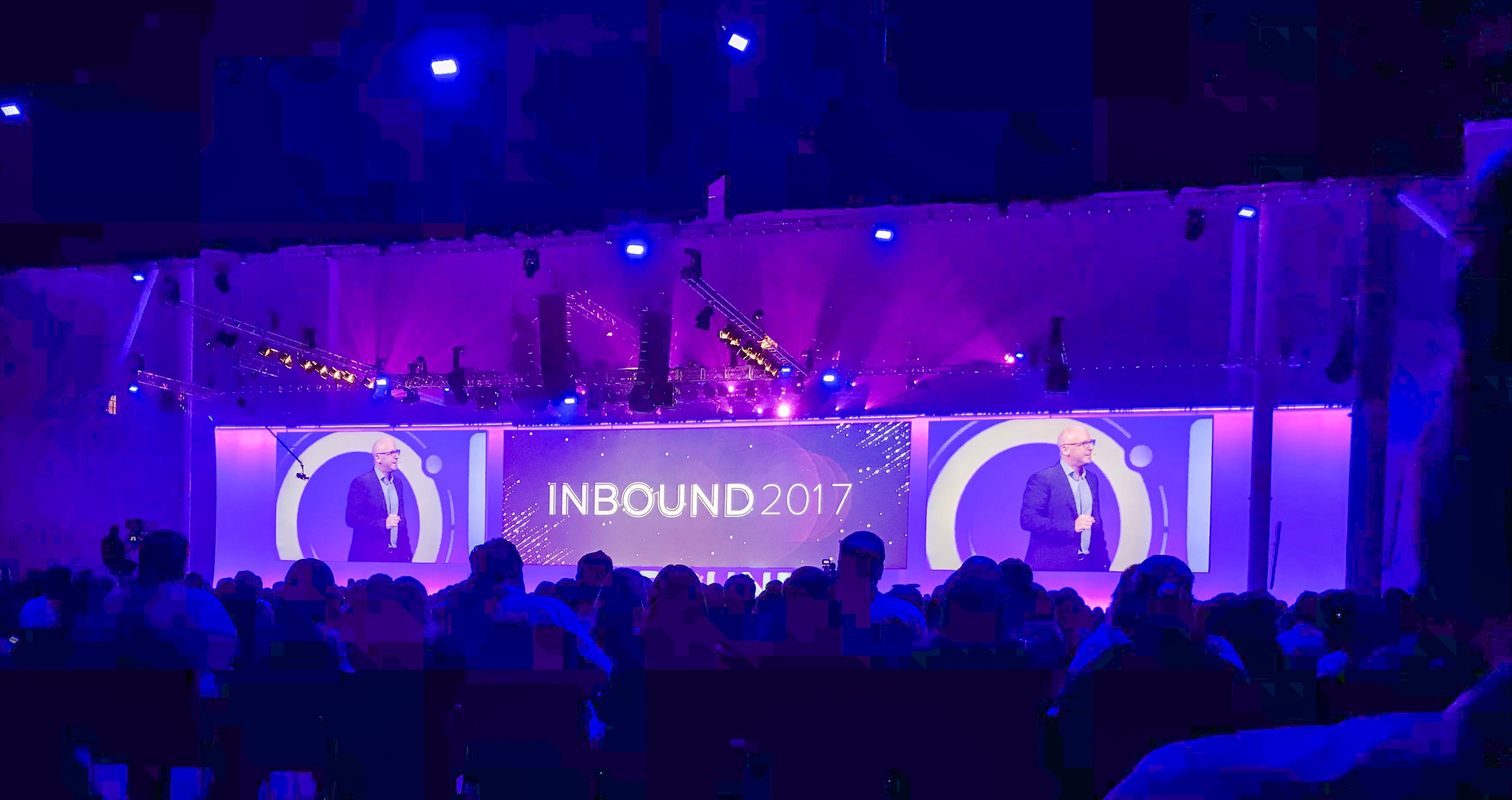 Looking for more great marketing insights? Check out the Inbound 2018 Recap on our blog!
---
Inbound 2017 took place in late September and the StoryTeller team look over Boston to bring you all the news and insights from the conference. Check out all the information below for great insights, recaps, product launches and more.

Boston's Convention Center played home to over 20,000 marketers, business owners and salespeople from over 100 countries, who have come together to share stories, be inspired and hear from others in the inbound marketing tribe.

Looking for new products and feature? Check the video recap from the Product Spotlight session.
We heard from the amazing likes of Brené Brown, Piera Gelardi and the HubSpot co-founders, Brian Halligan and Dharmesh Shah. Brian and Dharmesh announced some pretty exciting new products, including a Customer Hub, that will be coming in 2018.
The Big Trends
It's no surprise that the big buzzwords of the conference so far have been around Facebook ads, messaging bots and artificial intelligence, so here's a quick overview of each one of those topics. We'll be covering them in more detail as the week goes on.
Messaging Bots: With over 1.2 Billion active users on Facebook Messenger, this is a channel that cannot be denied. While this is still a little hard to comprehend for most marketers, the truth is that it's here today and marketers are starting to use it. Especially if you are a B2C company, this is probably something that should be on your radar.

Artificial Intelligence: Don't get scared by the futuristic sound of this big trend, your jobs are not in danger of being overtaken by machines. However, artificial intelligence will become an increasingly important part of providing new data that will influence the decisions businesses make every day.

Facebook Ads: If you haven't heard yet, Facebook Ads are HOT. This advertising platform has gotten so much more intelligent over the years and now we are at critical mass. If you aren't leveraging the segmentation data that Facebook has, you're missing out!
Session Recaps - Day One
Each one of the StoryTellers will be sharing their reactions, insights, and takeaways from their favorite sessions every day. Stayed tuned for more in-depth posts in the next few weeks.


The Psychology of Video (Tyler Lessard, Vidyard)
We process text in short-memory and we process video in long-term memory and that's a primary reason video is more effective than text, according to Vidyard's Vice President of Marketing, Tyler Lessard (@TylerLessard). Lessard's 45-minute presentation emphasized the physiological reasons why our brains love video. Strange insight coming from a man with an engineering degree and yet, his messages were backed by neurological research that says yes, our brains love video. However, even more, Lessard pointed out that our brains are drawn to stories. Video stories.

"Videos have a much higher ROI because our brains evolved to process and retain visual information." -@TylerLessard #INBOUND17 pic.twitter.com/YJ5P1nf1oe

— INBOUND (@INBOUND) September 26, 2017
Conversions in a Landing Page-Less World — How Technology is Changing the Way We Buy (Purna Virji, Microsoft)
Recap by Britt Laeger
With access to social media, mobile apps and bots, the way we buy is changing, according to Microsoft's Senior Training Manager, Purna Virji (@PurnaVirji). Just think about the number of ways we can order pizza today compared to a few years ago! Virji's presentation focused on helping marketers understand the difference between three types of AI that are changing the way people buy:
Assistants (AI created to know humans really well) like Siri, Cortana, and Alexa

Bots (AI created to understand businesses really well) like Growthbot and Trim

Skills (Bots created specifically for screenless interactions) like using Alexa to order something from Amazon.
Marketers often feel overwhelmed and intimidated by the term "AI", calling up images of futuristic movie scenes, but the truth is, it's already here and it's changing the way that people buy products. But just in case you were going to ask (because several people already have this week) bots and AI aren't going to take over your job, they are going to be an important part of your marketing mix that can automate some of the tedious tasks that marketers do every day.
'Stealing' the Best Content Ideas from Reddit and Other Online Forums (Daniel Russell, Go Fish Digital)
Recap by Julia Tiedt
Everything we hear these days about marking is content. Content is king. But what do you do when you have to come up with new ideas? ALL THE TIME. You don't want to keep writing blogs on the same ole thing – who is going to read that? The goal is to create valuable information that is relevant for your audience. But how do you find out what they are interested in? According to Daniel Russell (@dnlRussell), from Go Fish Digital, we should be turning to Reddit for our content ideas.
Learn how to replicate content @HubSpot #INBOUND17 @dnlRussell pic.twitter.com/hnUsbUN3BB

— Vickie McGee (@McGee_Vickie) September 26, 2017
As an individual whose significant other spends the better half of his morning scrolling through his Reddit App for his "daily dose," I couldn't agree more. Familiarize yourself with Reddit, find subreddits where your audience hangs out - what's buzzing there? Take what you see and use it to spark new and creative ideas for content. It is the best way to stay fresh and relevant.
5 Copywriting Secrets, Backed by Psychology, That Triple HubSpot's Sales Revenue (Scott Tousley, HubSpot)
Ever heard of the Zeigarnik Effect? It's one of the secrets that Scott Tousley (@sjtousley), Senior Growth Marketing Manager at HubSpot shared in his Tuesday Session. The effect states that people remember uncompleted tasks or interrupted tasks better than completed tasks. As humans, it's psychologically uncomfortable to not finish something we've started. That's interesting and all, but how can this be used from a marketing perspective.

Don't worry, we didn't forget to add a link there. This is an example of the implications of the Zeigarnik Effect. When telling engaging stories to your audience, don't always give away the ending without requesting action. Rather, make them click on a CTA, fill out a form or go to your blog to get the rest. The biggest caveat: your story must be engaging or they won't care enough for the Zeigarnik Effect to be useful.

Try testing this approach — send an email to a group and A/B test giving them the whole story versus omitting the ending (with a CTA) and see what the results are. You may be surprised!
Smarketing: How HubSpot Drives Sales & Marketing Alignment (Juliana Nicholson, HubSpot)
Whether you have hundreds of sales reps and a large marketing team or a small to mid-size business with lean sales and marketing functions, it's essential that you achieve smarketing best practices. What is Smarketing? In a nutshell, it's aligning your sales and marketing teams so that both sides work towards accomplishing the same goals or sales enablement. Why? Because companies with sales and marketing alignment achieve 20% annual revenue growth.
Tweet This
Juliana Nicholson (@JB_Nicholson), Sr. Field Marketer for HubSpot pulled back the curtain on how marketing and sales set expectations and alignment throughout the HubSpot organization which drives thousands of leads each month. Here are a few tried and true key strategies any organization can benefit from tightening up your sales and marketing alignment:
Marketing Goals + Sales Goals = Company Goals:

Remember, you're all on the same team. If you don't have a common playbook make sure you create a template BEFORE you create a campaign, that unifies both teams. It's important that you clearly identify the mission, strategy, plays, targets, and omissions (make sure you are laser-focused and OMIT anything that doesn't strategically help you accomplish the mission).



Service Level Agreements:

Get on the same page. You not only need macro alignment but individual department alignment as well. Know what marketing's specific targets are for driving demand (leads and MQL's) and what revenue targets sales is charged with closing. Agree on what good leads look like and define responsibilities across the funnel.



Communication Strategy:

Make sales and marketing roles easier with clear communication and have more than one channel of communication.

Email:

Marketers, when crafting your internal emails to sales, think like a marketer. Make it easy for sales to easily skim the email content, think about consolidating your emails into a weekly or monthly newsletter to provide easy-to-access updates.

Meetings:

Get everyone on the same page with team meetings.

Slack:

Create a sales and marketing Slack group inviting sales reps, product experts, customer service, engineers, marketing as a way to centralize communication, crowdsource information, and provide quick access to questions. (By the way, there are over 5 million people using Slack every day!)
Working together, aligning roles and goals, will benefit not just individual teams, but the entire organization.
Facebook TV: How to Maximize Your Reach & Results Using Video (Mari Smith, Facebook)
Recap by Steph Marsh
It's no surprise video has exploded in the world of inbound marketing, but covering the rise of that medium alone would take more than one session. What Mari Smith (@MariSmith), Facebook Marketing Expert, highlighted in her Tuesday morning INBOUND session was its prevalence in social media, primarily Facebook. In her session, she highlighted the reasons for the uptick of video on social. Those primary factors being; smartphones, shorter attention spans, binge-watching, the importance of context and the thrill of novelty. Makes sense, right? We've all been influencers in at least one of those factors.
Hot takes from @MariSmith's session on Facebook Video. #INBOUND17 pic.twitter.com/cGRfYwoo9l

— Clayton Dorris (@cedorris) September 26, 2017
The statistics from her session made you want to pick up a camera the second you get home from INBOUND. For instance, she told us that eighty-percent of people would rather watch live video from a brand than read a blog. Yikes! She also shared in her session that Facebook Watch is determined to rise above Netflix, Amazon, and Hulu. Plus, you've got recent quotes from Mark Zuckerberg who predicts: "Video will be a much bigger driver of what we'll do over the next 2-3 years than Messenger and WhatsApp." Feeling enlightened? Learn more about this session, here.
Session Recaps - Day Two
Inbound 2017 day two is officially in the books. In the four years I've attended the show, I've seen Gary Vaynerchuk, Brené Brown, Cyndi Lauper, Aziz Ansari, Arianna Huffington, Scott Harrison, Malala Yousafzai and many other amazing people who have inspired the attendees of Inbound, but nothing quite compares to the experience we had today.
The Former First Lady - Michelle Obama
With a line around half of the BCEC, a standing ovation, and a PACKED room, it was clear that a lot of this audience was eager to hear from Former First Lady Michelle Obama. Interviewed by New York Times bestselling author Roxane Gay, Michelle Obama shared comments about her life before the White House, her role as First Lady, and her plans for the future (including the book she's writing).
She spoke about how she wanted to change the narrative of her story by showing the media and the country that she was more than a figurehead who wore pretty shoes. She made a commitment to work hard and show people what she was capable of through her actions.
"I don't feel the need to prove myself to other people, I'll let my work show it" @MichelleObama #INBOUND17 @INBOUND pic.twitter.com/8DCDMY10Xd

— Vourneen Taylor (@VourneenT) September 27, 2017
The mainstage sessions were filled with other notable speakers today like Billie Jean King, Mario Batali, Andy Cohen, Jeff Rosenblum, Brit Marling, Issa Rae, Bozoma Saint John and Andrew McAfee. But we're bringing you another day full of recaps from our favorite breakout sessions:
What's Missing From Your Message? (Tamsen Webster)
Recap by Kathy Heil
You have your solutions, you know the problems they solve, and yet your messaging isn't connecting or converting. Sound familiar? What a message means to a prospect may not be the message you think they are hearing. Herein lies "the gap," which is the barrier from having your prospect move from here to there, or from interest to customer.
As marketers "we have to get people to say yes" @tamadear #Inbound17 #marketingmessages pic.twitter.com/0OBTo8vMUM

— Daphne Castillo (@daphnecastillo) September 27, 2017
Skipping what the audience needs to hear, "building the bridge" prevents you from closing more deals.
Tamsen Webster (@tamadear), strategic thinker and speaker extraordinaire, encourages you to focus on three key areas to mind the gap:
Understand the PROBLEM that stands in the way from the goal. What is the real reason someone needs to change? A problem is only a problem if it prevents you from reaching your goal. Make sure you clearly know what the GOAL is. The drive that determines everything else.

Have a revelatory IDEA that is a single concept that explains both the problem and the change needed to solve the problem. The diagnosis of the problem. The keys that hold the kingdom to hitting their goals.

Articulation of the CHANGE that will result in a shift or solution to their problem. You have identified the problem, bridging the gap is helping them understand that you have the only change that makes sense to address their problem.This is what must be done to achieve your goal and the specific things needed to make change happen.
Tamsen went on to say that messages can't actually be heard, and move the audience from here to there, without understanding your RED THREAD; the filter in how you see the world, how you uniquely make meaning out of it, and your role in what's happening around you. Deep Stuff!
Unicorn Marketing: Getting Unusually Great Results Across Every Marketing Channel, Larry Kim
Recap by Kevin Page
I love the analogy I heard from Larry Kim (@larrykim), CEO of Mobile Monkey during his session today. He compared content marketing to the game of Battleship. In Battleship, you fire missiles at your opponent in an attempt to identify where their ships are located and to ultimately sink their ships. This is a lot like content marketing in a way, except instead of trying to sink ships, we're striving to get our audience to engage with our content. And, in order to accomplish that, we "fire missiles" in the form of blog posts and other marketing activities to our audience to figure out what works.
The best session of this year! Find your Unicorns aka those top 3% top performing content pieces. By @larrykim. #INBOUND17 @novicelldk pic.twitter.com/e7RxuSlIHr

— Marianne Holmgaard (@M_Holmgaard) September 28, 2017
So here's the interesting part! If we get a hit in Battleship, we respond with a full force attack on that area to sink the ship. In content marketing, we often times say "Nice! That really worked!" And might be influenced by the success of that content during future strategic planning. But we don't, often enough, immediately respond with more articles, infographics, videos, webinars, presentation decks, and paid ads on that topic similar to the full force attack in Battleship I referred to. Instead, marketers typically go back to the campaign calendar we created and carry on, business as usual. This analogy is a huge help in understanding the way we need to shape our content strategies on the fly to react to data.
How to Create Cross-Platform Social Videos (and Keep Your Sanity), Salma Jafri
Recap by Julia Tiedt
Video seems to be all we are hearing about these days – we at StoryTeller preach the importance of it frequently. However, just because you are using video, it doesn't necessarily mean you are using it right. Are you thinking, wait a minute, I thought all I had to do was produce great video content? Sorry to disappoint you, but different platforms have different video needs. That is exactly what Salma Jafri (@salmajafri), Channel Partner at entrepreneur.com spoke about during her conversation. And just because you need different video for different platforms, doesn't mean that you need entirely different videos - what I mean is that you can take the same video and break it up in different ways to better cater toward the different platforms. For instance, Salma recommends the shortest video snippets be featured on your Twitter channel, think 15 seconds, but you can link that to the full video on YouTube.
Don't fall into the social video creation myth! Optimize your videos for each social platform. Via @salmajafri at #inbound17 pic.twitter.com/oMYX4Ch5tb

— Wave (@WaveVideoApp) September 27, 2017
Also, think about HOW your audience is watching the videos. Do they listen to audio? Or do they prefer the subtitled videos? AND which platforms do they hang out most on? There are so many questions, but really it comes down to building a solid strategy of attack. Like anything, you will want to test and see which works best for you.
The Science of Storytelling: Beyond the Buzz (Dr. Carmen Simon)
Recap by Ed Heil
What good is it to craft a piece of content that no one remembers? Why is it that you remember some stories and find other stories completely forgettable? Those are some of the questions Cognitive Neuroscientist, Dr. Carmen Simon (@areyoumemorable) of Memzy, a San Francisco based content consultancy, broke down in her talk, "The Science of Storytelling."
"Stories have to have action over time. But in many business presentations - nothing progresses or happens." @areyoumemorable #inbound17 pic.twitter.com/a8Jua5pO4L

— Kate Moore (@KateMInbound) September 27, 2017
As it turns out, according to Dr. Simon, memorable stories have to appeal to people on three levels: Perceptive, Cognitive and Affective. Unfortunately, she says, in many cases, content creators fail in one or all three of these areas. Among the eyebrow-raising findings shared in Dr. Simon's talk:
Stories do not guarantee memory.
Not all emotional stories are memorable, rather relevance is more important.
The more descriptive the story, the more areas of your brain are impacted.
A memorable story is never about you. It's how you shed light on someone else's story.
To be memorable, you don't have to talk about emotion, you just have to talk from it.
Adventures in Emerging Channels: What We Learned from a Year With Medium, Podcasting, and Live Streaming, Meghan Keaney Anderson
Your Company Podcast Doesn't Have to Be Boring, Kierran Petersen
Recap by Steph Marsh
If you're looking to stay ahead of the pack and take some risks, then you might want to consider firing up a podcast for your business. In the session Adventures in Emerging Channels: What We Learned From A Year With Medium, Podcasting, and Live Streaming, HubSpot's Vice President of Marketing Meghan Keaney Anderson (@meghkeaney) gave the scoop on what's working – and what isn't – for HubSpot in experimenting with emerging channels, like podcasts.
"The benefit of publishing offsite is you're going to where people are vs. making them come to you." -@meghkeaney #INBOUND17

— INBOUND (@INBOUND) September 27, 2017
From that, she shared these key ingredients to get a podcast off of the ground:
Invest in first impressions: Primarily, your host. They need to be likable. They need to have charisma. After all, they'll be the one carrying the show and will be influencing its brand moving forward.

Don't start with just one episode. This is the era of binge listeners! You've got to give them a chance to invest and fall in love. She recommends starting out with a minimum of four episodes to get the ball rolling.

Social promotion isn't effective for podcasts. Seems odd, right? We're all on social! But the truth is, podcasts can be inconvenient for users swiping through a newsfeed. Unlike video which catches your eye, podcasts lack visual draw. In order to stop and listen to a podcast, social media users generally have to read what it's about, plug in their headphones, and dive in. Podcasts are easy to pass by on social and can interrupt quick browsing,

LISTEN to other podcasts. Do we even need to explain this one?
That last message is the most crucial. LISTEN to other podcasts. If Meghan didn't emphasize that one enough, it was drilled home even further in the session that followed: Your Company's Podcast Doesn't Have to Be Boring. This was presented by fellow HubSpot'er, Kierran Petersen (@kpetersen1228) who works as an associate producer on HubSpot's Podcast: The Growth Show. She came out with some very frank "dos and don'ts" of podcasting, telling the audience, once again: "Go home, and listen!"
Stopping the Massacre of MQLs of Falling Off Cliff, Melissa Alvarez
Recap by Britt Laeger
I think if we're honest, sales and marketing alignment is something that we all, but few of us take the time to really work to create. It requires communication, process, and measurement to implement successfully. In her session, Sparkrock's Director of Marketing, Melissa Alvarez (@melisonit) shared her small-business story of foraging through the confusion and chaos that was sales and marketing to create a process that could work for both teams.
Incredible content on sales and marketing alignment from @melisonit at #INBOUND17 pic.twitter.com/cm9k4M1Nh4

— CandieMitchell (@CandieMitchell) September 27, 2017
She shared the steps that her team took to really learn what sales needed, how to improve the quality of the leads that made it to each salesperson and how to make the sales process more efficient.
Here are the steps she covered:
Increase Leads: In order to have metrics to measure, marketing has to have leads to pass to sales. The first step in the process was to create an effective content strategy that was driving a predictable amount of new leads to the funnel.

Narrow the Focus: Sparkrock found that they were trying to be too many things to too many people. They dug into personas, settled on a focused content strategy and focused on quality content that met the needs of their (more targeted) audience.

Refine the Lead Process: By shadowing sales and opening the lines of communication the marketing team was able to deeply understand the sales process and develop a strategy that would allow them to create a system that works for both marketing and sales. For them, it included the addition of a new Business Development Rep as a conduit between the two departments.

It's All About the Money: By shifting their focus from vanity metrics, like views and shares, to the same dollar-driven goals as the sales team, the Sparkrock team was able to create better alignment and, more importantly, conversations between your sales and marketing teams.

Marketing for the Full Funnel: It's a common misconception that marketing just gets to convert the leads and lob them over the wall to sales. Especially in the world of helpful, inbound content marketing, we don't want to get prospects that loved your audience-centric content and then get passed over to a salesy, pushy business development rep.

Implement a Sales and Marketing Summit: We need more than weekly meetings to truly understand the people behind the jobs. Alvarez suggests hosting a yearly Summit to bring together these two teams to create better communication and synergy.
Session Recaps - Day Three
After a few days of hearing from powerful women, day three of Inbound was bookended by a couple of notable men. Kicking off day three was Ed Catmull (@edcatmull), co-founder of Pixar. Ed shared his experiences with finding new ideas, creative brainstorming, and the importance of failure in trying new things.
.@edcatmull "Failure isn't a necessary evil, just a necessary consequence of doing something new." #INBOUND17 pic.twitter.com/xIkGjEWZ1N

— Alex Plaxen (@APlaxen) September 28, 2017
Next in the lineup were the last three breakout sessions of the conference. Here are the StoryTeller's recaps from their favorite sessions:

Why Powering Your Marketing with User-Generated Content is Critical to Your Strategy, Tyler Anderson
Recap by Julia Tiedt
Your days are busy. As you work your way through your to-do's, the lower priority items often get pushed to the wayside, which is why user-generated content can be so critical to your business. Because it comes from your audience or users, it is more authentic, trustworthy, and can even drive more purchasers. Pretty powerful stuff. In his talk, Tyler Anderson (@tylerjanderson), CEO of Casual Fridays solidified this point with specific examples from his own experiences. If a New York hotel is trying to drive business from more families, a picture a guest posted of her child looking out the window at the city skyline is much more effective than a stock image of a child in their hotel. In fact, Tyler says that the user-generated content has a 6.9 times higher engagement.
85% of web users find visual user-generated content more influential than branded content. -@tylerjanderson #INBOUND17

— INBOUND (@INBOUND) September 28, 2017
The best thing about that user-generated content? It saves you time and money because your content creators are working for free! Tyler says that while they aren't going to be professional photos, they are more engaging and usually have a better story to tell.
So, get creative and encourage your audience to take and post pictures of your work. Create fun hashtags and share those on your product boxes or online. Create contests around that hashtag. Have fun with it! Just remember that any content that you re-post or share needs to have the permission of the photographer. A simple message asking them if it's okay may be all that you need, but still is an important step in the process.
B2B Buyers Say They'll Meet with You and Buy From You If You Make This Shift, Deb Calvert
Recap by Britt Laeger
In any business, but especially B2B services with a long sales process, it's essential to match your selling tactics with the answers and information that your customers are seeking.
Deb Calvert (@PeopleFirstPS), President of People First Productivity Solutions, shared new research that revealed 30 specific behaviors that translate into more sales and customer loyalty.
Dialogic over diagnostic discussions. Engage get in two way dialog with buyer to strive to understand needs. Same old qualifying questions are old and stale. Buyers know them. They hate them @PeopleFirstPS #inbound17

— Adele Tiblier (@adeletiblier) September 28, 2017
The research shows that buyers respond more favorably to leadership behaviors. Here are the 5 major topics in the order of importance to buyers:
Enable Others to Act: Buyers are looking for sellers that actively engage them in a two-way conversation that gives them the tools they need to make an informed decision. They want to know the considerations for pricing, the options for specific services and be part of a collaborative selling process.


Model the Way: Buyers are also craving interactions with sellers where the salesperson follows through on the commitments they made (like meeting times and deadlines). They also crave sales interactions that fulfill the expectations that have been set forth in conversations.


Encourage the Heart: No one likes to feel like they are doing things wrong. Look for ways to affirm and encourage the things that buyers are doing well.


Challenge the Process: In order to challenge the existing process, buyers want you to earn their trust first. Respect and dignify their choices before suggesting changes.


Inspire a Shared Vision: Buyers can't believe in the message until they believe in the messenger. Involve the buyer in the process of creating a solution to make it a truly shared vision.
Here's Why You Don't Rank in Google, Matthew Barby
Recap by Kevin Page
For a lot of people, SEO seems like a dark art. There's tons of misinformation online and it's difficult to know where to start. Because algorithms, search habits and SERPs (search engine results pages) are always changing, SEO is unpredictable and getting tougher all the time. Matthew Barby (@MatthewBarby), Director of Acquisition at HubSpot simplified Google's search rank algorithm into three phases:
Crawling is the discovery phase. You need to make sure your pages are built in a way that allows Google to crawl them and gather the necessary information for the next stage, indexing.

Indexing is the relevancy phase. It's where Google determines what your content is about. This phase, like the others, has been significantly updated in terms of Google's algorithm. Many marketers are moving to a content pillar/cluster model to take advantage.

Ranking is the authority phase. This is where Google actually determines the value of your content and assigns your search rank for a wide variation of search inquiries. A big factor here is your page's click-through rate so don't undervalue the importance of that measurement.
The truth is that SEO is tough, if it were easy, everyone would be ranking number 1. But getting traction in organic search is valuable to every company, so it's important that we work hard to understand the basics and learn how to evolve as search evolves.
"SEO is about knowing which lever to pull when." - @matthewbarby of @HubSpot #inbound17 pic.twitter.com/vQqH4qU3XX

— Allie Tetreault (@aktetreault) September 28, 2017
Closing out Inbound this year was none other than actor and professional wrestler, John Cena (@JohnCena). John covered the importance of understanding exactly what your company does, what your role is and who your audience is. That goes far beyond your elevator pitch. He emphasized the importance of loving what you do. "It is so important to put your heart and soul into something, and fail," he says.
Remember to ask yourself: "do I love what I do?". A friendly reminder from our final #INBOUND17 Keynote speaker, @JohnCena. pic.twitter.com/DzWe5VtDFf

— INBOUND (@INBOUND) September 29, 2017
And that seems like a perfect thought to send off our coverage of #Inbound17 week. So, go out into the world, put your heart and soul into creating amazing content that solves problems and inspires people. Remember, if you fail, learn your lesson and move on to something better.
Our Favorite Takeaways and Quotes from Inbound 2017
And just like that HubSpot's Inbound Conference has come and gone. It was another year of inspiring sessions, big-name influencers and powerful conversations. Sometimes, amidst all the hustle and overwhelming amount of content, it's easy to miss those diamond-in-the-rough statements that are bound to bubble up at an event like this.
Here the best nuggets from this year's conference to inspire you as you go about your life back at the office.
Know Who You Are
Don't Be Afraid to Fail
Real Human Connections
People are hard to hate close up. And we need to move in, because it's the only way back to each other. - Brené Brown @brenebrown (Click to Tweet)

"People are hard to hate close up. And we need to move in, because it's the only way back to each other." - Brené Brown #INBOUND17

— INBOUND (@INBOUND) September 25, 2017

Stories that drive action appeal to the head AND in the heart. The real power = making emotional, human connection. - Lisa Gerber @lisagerber (Click to Tweet)

The anchor to our revolutionary beings as humans is our intuition. - Grant Erhuanga (Click to Tweet)

How do you create authenticity? With passion. - John Cena @JohnCena (Click to Tweet)
Creating a Better Company
LISTEN To Your Customers
The real art of storytelling is derived from listening. - Amal Kassier @amalthepoet (Click to Tweet)

"The real art of storytelling is derived from listening." @amalthepoet #INBOUND17 pic.twitter.com/uadQAgL72W

— INBOUND (@INBOUND) September 26, 2017

If your audience changes, your message has to change. - John Cena @johncena (Click to Tweet)

Help customers however, whenever, with whatever they want. - Dharmesh Shah @dharmesh (Click to Tweet)

My job is to communicate with people however they want to be communicated with. Email isn't enough. - Kipp Bodnar @Kippbodnar (Click to Tweet)

Marketers: People just want to get the answers they need to make a decision. Stop f@$%'ing everything up! - Kipp Bodnar @Kippbodnar (Click to Tweet)

Put customers first ... that's not bullsh*t. - Stewart Butterfield @stewart (Click to Tweet)

Storytelling helps your target market relate complex ideas back to their own experiences. - Tyler Lessard @tylerlessard (Click to Tweet)
Owning Your Brand
The brand is the sum of all interactions we have with customers. - Stewart Butterfield @stewart (Click to Tweet)

.@stewart "The brand is the sum of all interactions we have with customers." #INBOUND17

— Alex Plaxen (@APlaxen) September 26, 2017

The delta between good design and a brand is emotion. A brand is the emotional connection you feel with it. - Jen Rubio @jennifer (Click to Tweet)

If you aren't connecting emotionally with your customers, you aren't building a brand. - Jen Rubio @jennifer (Click to Tweet)

Your goal is not to produce a lot of content; your goal is to produce a content BRAND. - Dharmesh Shah @dharmesh (Click to Tweet)

Say what you believe, not what you think will drive the numbers. - Dharmesh Shah @dharmesh (Click to Tweet)
Marketing Tactics
Want to See Recaps from Our Other Years at INBOUND? Check out the links below: